The Quarters on King
Located in the heart of Charleston, The Quarters on King is a luxury, boutique hotel boast large suites all with full kitchens and multiple bathrooms. The property places the guest in walk-able distance from the Old Exchange and Provost Dungeon, Old Slave Art Museum, Dock street theatre and many more Southern historic sites
The hotel is located on the corner of Society Street and busy King Street, where world-wide brands and local, specialty shops force patrons to visit every window front and explore every deal. King Street shopping trips quickly turn in to all day endeavors.
After long days of learning and buying, Charleston shares James Beard Award Winning chefs that allow visitors to indulge and simultaneously relax. Do not neglect some of our best kept secrets, but we can't share those with you until you arrive!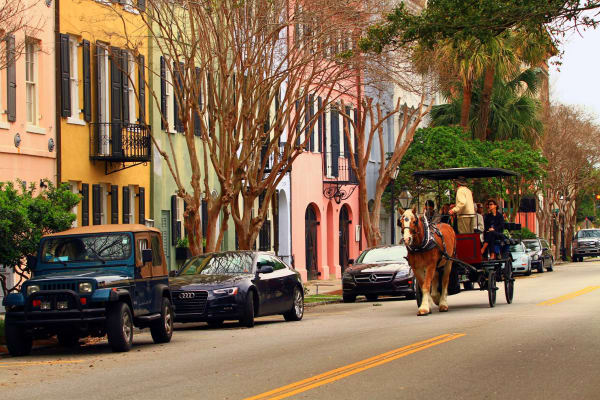 Unique Packages
Large Suites Offering Rare Experiences
Charleston brings together the best Southern living. Classic, scenic Carolina beaches. World renown restaurants and chefs. History intertwined with the birth of a America. Allow us to assist you booking the experience that suites you and your guest!
View Offers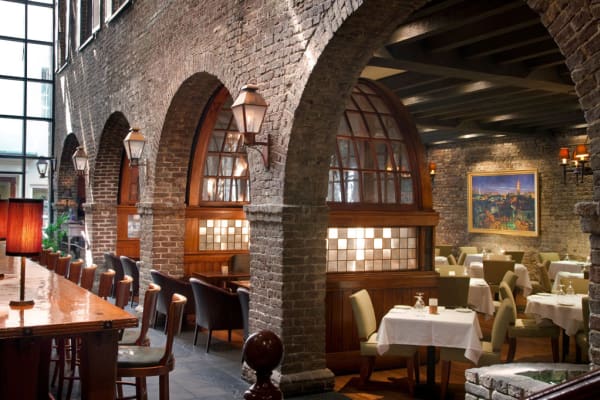 Charleston Restaurants
Wealth of Cuisine
In recent years, Charleston has become the center of a fantastic Southern food scene. Some prefer the eateries abound in the Holy City to those in other larger metropolitan areas. Check out our recommendations for our favorites, diners, dining rooms, canteens, chophouses, and bars.
If you are looking for something specific, just call and speak with our Front Desk for restaurant recommendations and assistance with resevations.
Restaurant Suggestions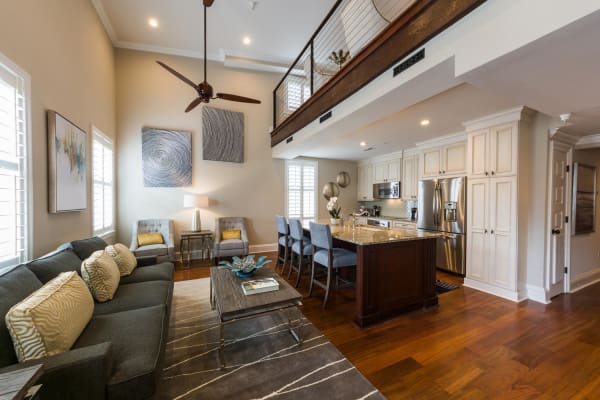 Good to Know
Charleston's Most Spacious Suites
We know we have the right accommodation's for your stay in Charleston. Our two-bedroom, two and a half bath suite can accommodate a friends weekend away and our one-bedroom, one and half bath loft offers the privacy a couple desires. Whatever the size of the group or however rare the weekend away is, let us help you select the best suite.
Before you book, make sure you know all The Quarters on King has to offer and let us know if you have any questions along the way!
Before You Arrive
Luxury Accommodations
More than hotel rooms, our one and two bedroom suites give a perspective on what modern Southern living should feel like. The fully equipped kitchens, galley or island style, ensure no limit on personalizing your time away. We encourage you to entertain friends and family with cocktails and appetizers while lounging in a proper living room. If you prefer, you can whip up your own version of shrimp 'n' grits first thing in morning and catch the first golden rays of the day. Whatever you daily routine or desired socializing calls for, our accommodation's can provide the comfort you want experience
Our plan at The Quarters on King is to offer a guest a vacation above and beyond what the typical hotel room offers. You come to the Holy City to stroll through one of the most sought after destinations in the world. When you are done eating, drinking, and gazing up at massive Live Oaks caked in Spanish Moss, retreat to your own live able space. You were not built to experience all of life in a bed. Dine in a kitchen. Relax in the living room. Sleep in the bedroom.
Learn More
Sign Up Today
Subscribe to our newsletter and be the first to learn about our seasonal promotions and special deals.
By clicking "Sign Up" I agree to the Terms of Service.
Guest Reviews
We strive to provide an exceptional level of service for every guest, and are proud to have a 4.5-star rating on TripAdvisor.
View Reviews